Good examples of Swiss Made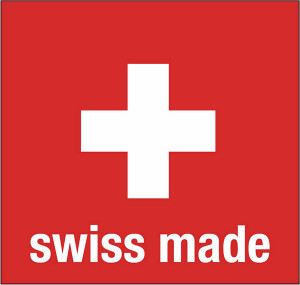 Swiss Made is a registered trademark that denotes products that are made in Switzerland. It is such a value for the manufacturer and the consumer that its designation is regulated, protected and controlled by Swiss law.
The Swiss Made designation has earned a reputation as a warranty of good sustainable products that is built with great precision through centuries of manufacturing quality products in Switzerland. It gives consumers a sort of guarantee about the quality of the goods they are purchasing and manufacturers can further profit in greater sales gained by the high consumer confidence from such a prestigious reputation.
The Swiss Made designation is an asset for Swiss companies to leverage in a competitive marketplace. In today's global economy, a manufacturer must compete with goods made across the world. In order not only to survive but to be chosen by the customer as the best, the Swiss manufacturer must be competitive in the national and international market as well. This is why it is very important that Swiss Made goods deservingly earned a stellar reputation that is widely recognized and respected worldwide.
Today, Switzerland is regarded as having one of the world's most powerful and stable economy. This is due to its strong manufacturing base as well unprecedented and continuous high quality that can be dated for hundreds of years. The solid and traditional quality of Swiss Made also contains latest know-how, industrial and scientific. In this way, the Swiss Made goods attract and reach a broad range of interested customers, even those who are ready to pay the ultimate price for such a remarkable product. It's a win-win business for the Swiss Made goods producers and their customers.
Under the Swiss Made label, Swiss manufacturers have earned a worldwide fame for quality goods with durable reputation. These companies are recognized and accepted in many well-known areas of international industry. In addition to this, they can also surprise us in their visionary way by thinking in creating their own successful business in the market niches or supply professionals with unique products.
One of such company is Duvoisin Guitars SA. It is a Swiss manufacturer located in Neuchatel, Switzerland.  This company may not be known to many but for connoisseurs of electric guitars and basses this brand has world-class prestige. Like the traditional Swiss watchmakers, Duvoisin produces their musical instruments with great precision. They created internal six steps technology's guide-line in order to achieve the highest quality product. It begins with the wood selection, its cutting and careful aging in the company workshops. Further it continues through the various stages including sound transmission, the geometry of the neck and precision in the positioning of the frets. Finally it finishes with the truss rod and touch markers.  To achieve this outstanding quality, in addition to the internal six steps rule, the company employs high qualified professionals, makes the guitars from exquisite woods as well uses special machine locally developed.  And it is not a surprise that they are testing the suitability of various Swiss' woods for making instruments. Also since 2007 the company has been manufacturing basses from the Swiss wood. Duvoisin's electric guitars and basses are produced in full compliance with the principles of Swiss Made goods.
Another example of Swiss Made are products of FELCO, a company which was created in 1945 by Mr. Félix Flisch a legendary, self-taught visionary. To start production of his first pruning shears he bought an old watchmaking factory. If it was just a coincidence, or destiny indicating that his products are so finely crafted as Swiss watches? The truth is that today, FELCO manufactures not only pruning shears unlike any others but offers tremendous assortment of pruning and cutting products to his clients in over 120 countries. The company is based in Les Geneveyes-sur-Coffrane, Switzerland. In the FELCO catalogue customer can find three general products classifications: "Green," "Industrial" and "Power-assisted" for professional and leisure use. It sounds very simply but behind these three categories are wide range of goods offer to the client. It starts with the "universal cutter" and finish with "pneumatic and electric tools." FELCO tools are used in various domains. They are widely used in agriculture, automotive industry, civil engineering and aeronautics, telecommunications, fishing and harbour activities as well many others.  The manufacture not only produces excellent tools but also offers accessories and service to maintenance the highest quality and longtime use of their products. When a new product is created the entire design team attention is focused on the smallest detail. The unique quality, perfection in accuracy and execution as well customer pleasure in using the tools are the base of Swiss Made brand.
A New chapter in Swiss Made knives is a cooperation between FELCO and VICTORINOX.
The two Swiss companies using label Swiss Made, proudly marked in a co-branding agreement a "Grafting and Pruning Knife." The knife is produced by the manufacturer of Swiss knifes Victorinox.
Victorinox has been in business since 1884 and it is probably not always synonymous with cutlery, but it manufactures one of the world's best-selling pocket knives, the Swiss Army Knife. Since 1891 Victorinox has been supplying officially the Swiss military with these pocket knives that would eventually become the Swiss Army Knife. As Victorinox knives got renowned, Mr.Karl Elsener, the company founder decided in 1909 to distinguish his knives from copies by using the white cross and red shield as company brand. Slowly but strong, the company was recognized for excellent quality production of original knifes and became one of the leaders in manufacturing cutlery.  1978 was a big moment and a huge recognition for the unique Swiss Made quality of Swiss Army Knives when the first time 50 Master Craftsman knives, model # 5044 were purchased by NASA. Nowadays the Swiss Army Knife is part of the standard equipment for the crew on space missions. Company reputation for durability and reliability is second to none extending a lifetime warranty for those who purchase their products. In addition to the well know production of world-class professional and household knifes Victorinox offers pocket tools, timepieces, travel gear and fashion. All these goods represent Swiss Made quality at every stage of their production. They are masterpieces of quality and latest technology with the roots in a revolutionary idea from 1884 of Mr. Karl Elsener.
In such a distinguish company it could not be missed the Girod Instruments, a Swiss manufacturer measuring instruments of superior precision. The company products are noticed for their Swiss Made solid quality and neat appearance. In 2014 the company is celebrating its 50th anniversary of the successful business. The business is located in Court, in the middle of the Swiss Jura, a region which is well-known as a historical base for manufacturing the famous Swiss watches. Be a part of the living watch industry tradition influenced the products of Girod Instruments.
The company develops measuring instruments as well customized products on request. The main area of the business activity of the company is micro-mechanic. A company's own product the Girod-Tast is a lever indicator. A part of the Swiss Made quality is an outstanding service. That is very much in line with the Girod Instruments philosophy, because the company manages the repairs of the products directly within its own locations.
Swiss Made is a legacy and philosophy for companies, which are located in Switzerland and desired for the highest quality and standard of their products. The companies pay attention to the smallest detail of their product and respect customer's well-being.
The Swiss Made trademark is most known for the reliability and precision and is always proudly displays on product which meet the requirements.
By Ella Salzmann